Tuna Fishing In Costa Rica
There are many species of tuna here in the Pacific waters of Costa Rica.  May - October is most consistently your best chance for a big one; even though it is possible for them to appear any time of the year.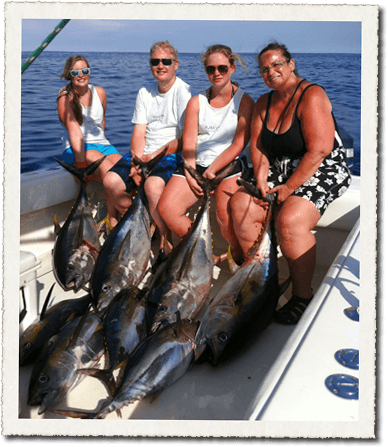 Yellowfin Tuna

(Aleta Amarilla, Ahi)
Yellowfin tuna is the premium tuna caught here in Costa Rica. It is prized worldwide for its commercial value as a food fish, and equally prized worldwide as an incredibly tough fighting game fish. They are pure muscle and must always be swimming forward.
Yellowfins are one of my favorite fish to target. They can grow on excess of 300 lbs. with the current world record at 405 lbs. They are very common here between 20 and 100 lbs. throughout the year, and fish over 100 up to 300 lbs. being caught regularly, especially in green season fishing months - May through October.
Pound for pound it is one of the toughest fighting fish in the ocean, capable of multiple blistering runs and long, drawn out fights, making fishing for tuna a particulate favorite among our charter guests. They usually travel the ocean currents in schools of hundreds to several thousands of various sizes.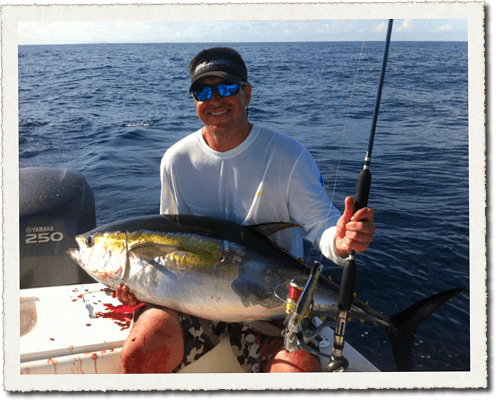 Here on the Pacific side of Costa Rica, they have an unusual relationship with various species of porpoises. And actually travel along side the porpoises, working the same bait with them. There are a few types of porpoises, which they seem to favor. Spinner dolphins being their favorite, followed by spotted dolphins and tuxedos, with pods of standard bottle nose dolphin being the least likely to host a companion school of yellowfins.
Finding a big pod of spinner dolphins with hundreds of seabirds diving in front of them is almost guarantees yellowfins in the area. They can be caught trolling plain ballyhoo, but the larger smarter fish have extremely good eyesight, can be leader shy and extremely finicky. Cedar plugs are very effective to catch small to mid sized yellowfins (20 to 50 lbs.) but using light fluorocarbon casting poppers on spinning gear, butterfly jigs, and/ or live bait is my favorite way to fool the larger ones into eating.  Catching a big Yellowfin while casting poppers on spin gear is something you will never forget!
I have caught one over 300 while live baiting with a 5 lb. skipjack near a school of spinner dolphins, and catch several every year over 100 lbs.; some on poppers, and some on live bait.
When we find the spinner dolphins, our primary tactic is to throw live bait off the back, and have a couple anglers cast poppers off the front. This often results in double and triple-headers, again and again. It can be very easy to fill the boat with 10 or more nice sized fish in an hour or two, provided you don't get involved in a long drawn out fight with a feisty 200 pounder!
Big Eye
Big eye tuna is very similar to Yellowfin in size, shape, quality and commercial value. Primarily a nocturnal feeder. It is possible to catch one in Costa Rican waters, but an uncommon catch.
Skipjack
Skipjack are smaller relative of the Yellowfin, the most common tuna throughout the world's oceans. Typically, 5-20 lbs. excellent food quality meat, often main component in canned tuna purchased in grocery stores in the USA. Also a premium baitfish, used live for marlin or large yellowfin tuna. Usually caught trolling spoons, jigs, small lures or bait.
Bonito
Slightly smaller than skipjack averaging about 5-10 lb. bonito are extremely common though tropical oceans. Poor food quality, very red, bloody meat. They do make excellent live bait for Marlin, large tunas, and sailfish. Also may be used live inshore for large roosterfish, snappers, or grouper. Makes excellent cut bait (dead) for snappers and grouper. Usually caught trolling spoons, jigs, small lures or bait.