About Us - Leading Your Fishing Trip In Costa Rica
Epic Fishing Costa Rica, is owned and operated by American Captains that live here in Costa Rica year round. We are serious and passionate about fishing. We not only have experience in the charter business, but have years of experience running private yachts, which provides us extensive experience in high levels of personalized customer services as we lead you on your fishing trip.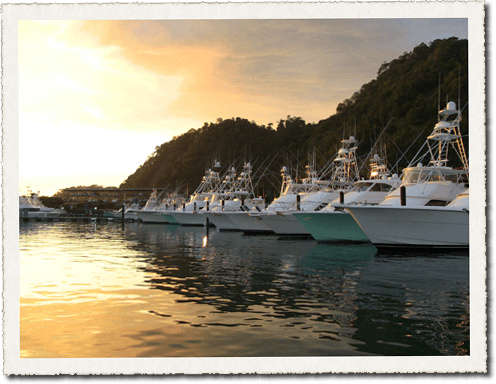 We understand what American visitors want and expect, and aim to deliver an epic experience, whether you book a full day or half day fishing trip. We go all out to satisfy our clients. We are at the marina, on the docks, and out on the water fishing, essentially everyday. It is more than a job, it is what we live for and love to do.
We are networked with all the other top captains and crews in the area, and have first hand knowledge, and years of experience, of what it takes to have a safe, successful day (or half day) on the water. This gives us a unique outlook in assisting you to get the most for your vacation.
We are always up to date with what is being caught, how, and where. When you book your fishing trip with us, we hook you up with the best deal on incredible lodging, the area's best boats and most professional hardworking crews, not who pays us the biggest commission. We aim to provide staightforward, honest answers to help you plan and get the most out of your vacation.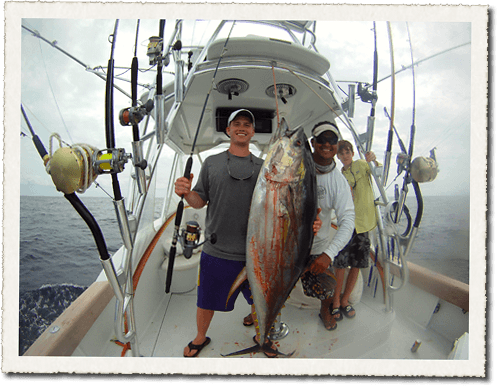 Honest and Straightforward to Deal With
Be assured, when you contact us you will be speaking with actual captains you can fish with, giving you real, no BS reports and answers to your question; not rosy, embellished or scripted answers by a 3rd party trying to sell a trip to collect commssion.
It can be very confusing for tourists to get through the maze of promises made by booking agents and agencies. Most agencies who claim to have a "fleet" of boats actually have none, or any affiliation to any boats whatsoever, rarely fish, could operate a boat, tie a knot, rig bait or correctly identify many types of fishes. Most have no idea who works on what boat or what kind of service they really provide. They are merely commission machines, charging 20% (sometimes more) commission for their bookings. This makes it tough for the boats to make a profit in this business, with very expensive overheads already - maintenance, fuel, dockage, and tackle, just to name but a few - and everything here in Costa Rica costs much more than in the USA.
Hands On Approach
We specialize in hand's on approach for experienced anglers, and hardcore fisherman who want to actullay fish themselves, rather than just have a mate hook a fish and hand them the rod. If you are a true fisherman, looking to acutally fish, we are for you. We enjoy getting clients involved in the process, catching bait, hooking their own fish, casting poppers and jigs. We welcome anglers of all skill levels. We enjoy introducing beginers to the sportfishing experience.
We do not cut corners or skimp on the neccesities, tackle or gear. We use only state of the art, top of the line tackle: shimano, yo-zuri, powerpro, seagaur fluorocarbon, Black Bart and moldcraft.
Too many times I have witnessed disappointed anglers leaving the dock from fishing with an unprepared crew, with no live bait, or not willing to run the distance offshore to the bite, or who just let experienced anglers who wanted to actually get involved and fish, just watch the crew fish. This is entirely unacceptable.
I aim to provide a fishing trip beyond expectations, exposing people to sights and experiences they may never have anywhere else. I live to see the excitement on people's faces when they land their trophy fish, knowing it is something they will never forget.
If for some reason you are not fishing with me, and I arrange another boat for you, rest assured, I only use boats and crews I know to go all out to satisfy their clients.
Personalized Service
I also provide personalized services with our fishing vacation packages. From a private driver to pick you up at the airport, a personal "meet and greet" in your condo or hotel, and first class transportation while you are here. I also offer assistance in planning and booking all activities and transport during your stay. I will get you the best deals on the most popular attrations and tours, run by the best operators, V.I.P service at local bars and clubs. I can arrange round the clock assistance and guide services, to make your vacation a stress free one.
Our goal is to provide you with a vacation experience that exceeds all expectations, the opportunity to land the catch of a lifetime, so you will have incredible stories to go home and brag about, memories to last a lifetime, and to look forward to returning to fish with us again; and most importantly, for you to get your money's worth.
By booking with us you have the most direct route to the boats themselves. I want to see the hardworking crews around me be successful and my clients satisfied and dreams fulfilled.
Call me, Captain Michael "MJ" Alligood directly at (561) 459-5355 or email [email protected] with any questions you may have, or for the most recent reports. If nothing else, we can just have a good chat about fishing.  If I do not answer your call the first time, please leave a message with your contact Info - I am probably out fishing!