Meet Captain Michael Alligood & The Crew
Our crew members are professional, fun, friendly, energetic and passionate about fishing. They all have lifetime experience on the water which has helped them to develop deep knowledge and expertise about fishing and the marine environment.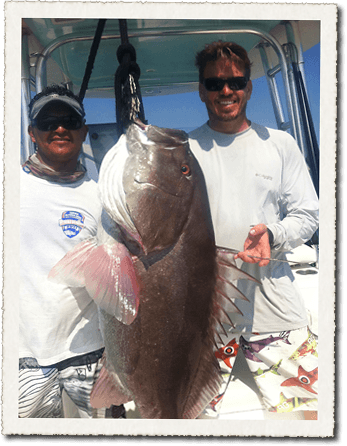 Captain Michael "MJ" Alligood has grown up on the water and on boats his entire life, from bass and bream fishing on the Saint John's river in Jacksonville FL, to fishing blue water off the coast.
After graduating college, he realized that the office was no place for him. His professional fishing career started in south Florida where he began commercial fishing for King mackerel, snapper, Baitfish, and lobster diving.  He began running inshore and offshore charters from Singer Island FL and West Palm Beach inlet aboard a 25' SeaVee, before moving on to the larger private sport fish yachts, which gave him the opportunity to travel extensively and gain experience fishing throughout the Atlantic, Caribbean, gulf of Mexico and pacific, before finally settling here in Los Suenos.
Some places Michael has fished include:
Bahamas, Mexico, Bermuda, Ecuador, Jamaica, Panama, Columbia throughout the eastern seaboard of the US, and the oil rigs in throughout the gulf of México from Texas to Florida
Of all the places he has traveled and toured, Costa Rica is on top of his list. The beautiful landscape, great weather, calm seas, friendly locals and a wide variety of large game fish to pursue are tough to beat.
He loves being in the water as much as on top of it. An avid freediver, he always welcomes the opportunity to hop in the water and see what is going on beneath the surface, giving him a unique perspective of the areas he fishes.
Mate Randal Garcia has been fishing professionally in Costa Rica for over 16 years. He grew up fishing in Guanacaste; the northern pacific coast of Costa Rica, but Los Suenos has been is home port for the past 10 years.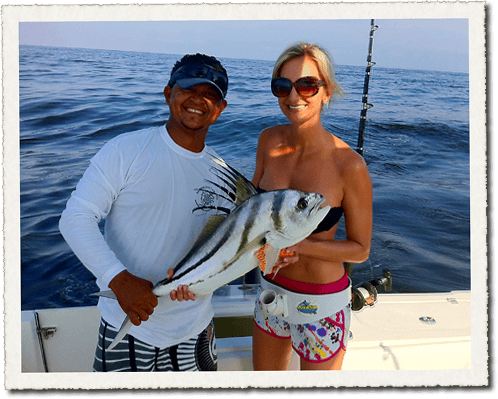 He is professional, friendly and fully bi-lingual. He is considered one of the top Costa Rican mates, with hook up ratios second to none, and does an excellent job assisting guests in fine-tuning their angling skills. He is comfortable with guests of all skill levels.
Captain Jeff Dry, another native of Jacksonville FL, He is highly regarded as the authority on inshore fishing on the central Pacific of Costa Rica. He has been fishing here before Los Suenos existed. He has run several charter boats, private boats and spent countless days on these waters giving him a huge amount of knowledge the undersea terrain and structure that few local lifetime commercial fisherman could match.