Charter Fishing From Jaco & Los Suenos
Your fishing charter trip with Epic Fishing Costa Rica will be based in the Jaco and Los Suenos region on Costa Rica's west coast. The region is a tourism focal point and is jam-packed with activities and things to do when you're not out fishing.
Jaco
Jaco is the central hub of development and tourism on Costa Rica's central Pacific coast. Its close proximity to the capital city San Jose, and from the San Juan Santa Maria airport, together with a the new highway which opened in 2010, make it an easy 1 hour 15 minute ride to the coast.
Jaco has always been known as surfer town, and has the reputation as a fun, party town full of  restaraunts, bars, and nightlife to choose from, but it has much more than that to offer. It is a great base for you to plan your vacation.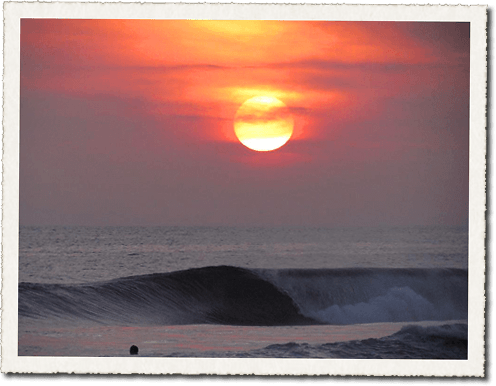 It has plenty of options for lodging in all price ranges, from cabinas to condos, to 15 bedroom mansions. There are several large grocery stores in the area, most carrying many of the American brands that you are familiar with.
Most of the activity in Jaco is centered on the main strip, a block off the beach, lined with stores, restaurants and bars. There are plenty of excellent restaurants to choose from, offing all types of food; From traditional Tico fast food spots called "sodas", to sushi,  wine bars, sports bars, and fine dining establishments.
There are numerous tours and activities to do, based in and around Jaco: surfing, Atv quad tours, Kayak, bungee jumping, horseback tours, waterfall tours, nature tours, motorcycle rentals, take a hike through the rainforest, Spas, Yoga, or just Relax on the beach.
It is a short 10-minute taxi ride to Los Suenos resort and marina in Herredura bay from the center of Jaco.
Herredura
Herredura lies just a few miles from Jaco on the way from San Jose.
A small town,  the crossroads of the main coastal highway and the road to the beach on Herredura bay, and Los Suenos Marina. There is a large shopping Plaza at the intersection, featuring Automercado- a large USA style grocery store with excellent food selection and USA brands, a Pharmacy, Radio Shack, Subway, Pizza Hut, and Pops Ice Cream.
Los Suenos Resort and Marina
Los Suenos is located in Heredurra bay just a couple miles from Jaco. Los Suenos Resort and Marina opened in 1999, revolutionizing  the central pacific of Costa Rica.  It is regarded as a premier resort marina on a worldwide scale.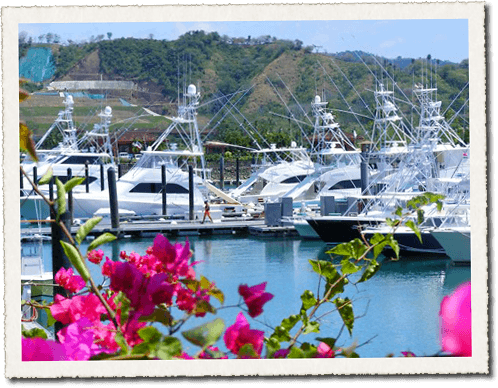 Anchored around the Los Suenos Marriott and surrounded by a 700 acre rainforest reserve, it is a beautifully landscaped, master-planned community of condos, villas and private homes. It features the Iguana championship golf course, a 220 wet slip and 100 dry slip marina, Marina village shops and several great restaurants. ranging from sushi, italian, to classic american sportsbar cusine. Be sure to check out Jimmy T's gourmet store for pre cooked dishes, imported cheese, meats, and US brands to cook in your condo.
The Mariott Los Suenos offers several more excellent, diverse restaruants for an expanded selection of dining options.
We have several beautiful Los Suenos condos available for lodging.
Hermosa Beach
Hermosa beach lies on the south side of Jaco opposite than Los Suenos. It is a very tranquil 8 mile long, black sand beach, and far less developed than Jaco or Los Suenos. No high rises, or touristy soveigner shops, just a few small hotels, condos and restarants.  Hermosa offers a close, quick change of  pace. It is known for some of the most consistent surf in Costa Rica, and has a totally different feel than Jaco- laid back, quiet and without the crowds. It is an awesome place to plan a relaxing day at the beach.
Most of the action is centered around the Backayard Hotel & Bar and Cabinas Los Olas. Backyard features Ladies Night on Wednesday night and Saturday afternoon surf contests followed by live music.
Esterillios
A Small old fishing village about 20 minutes south of Jaco, slowly being developed, but decades behind Jaco. A popular surf spot and  a great spot to spend an afternoon on a tranquil beach with lots of colorful Macaws. At low tide, explore the tidal pools for fish and starfish or take a horseback tour through the mountains and along the beach.
Quepos
An old commercial bannana port about an hour south of Jaco. There is a new marina under constuction, but development is about a decade behind Los Suenos. The town of Quepos is pretty dumpy.
Manuel Antonio
The saving grace of the Quepos area. Manuel Antonio is one of Costa Rica's best national parks,  loaded with monkeys, sloths and other wildlife; miles of trails to choose from and a few secluded beaches to relax on, definitely worth a day trip for a hike through the park, and maybe spend a morning whitewater rafting.